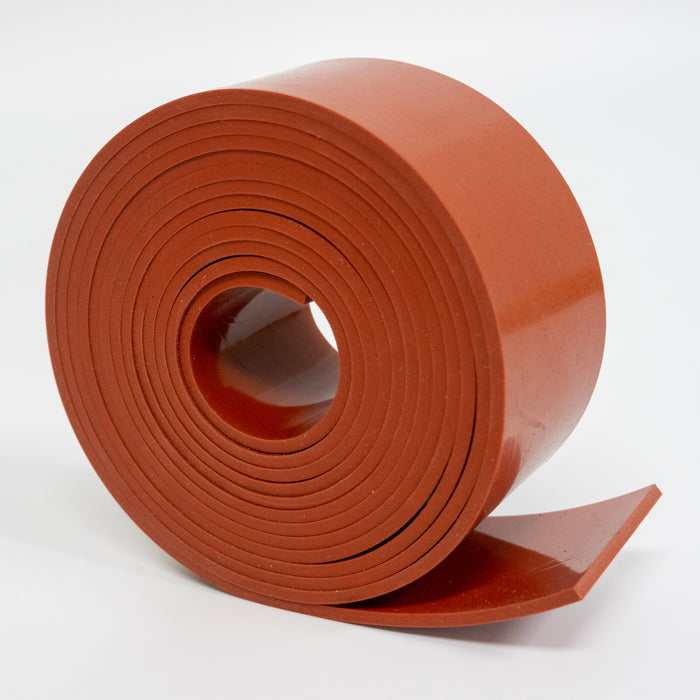 Silicone Rubber Strips 60A Medium Hardness
Click here for Silicone Rolls & Sheets
Silicone Rubber is ideal for high and low-temperature applications.
Electrical properties are excellent and resistance to weathering and
ozone attack is outstanding. It is not resistant to super-heated steam.
Physical properties are generally low but are at least retained at higher
temperatures. Gas permeability is very poor as is resistance to petroleum
based fluids. Silicone rubbers are expensive in comparison to most other
rubbers. Food Quality/FDA compliant grades are available for use in the
food and pharmaceutical industries.


Typical Physical Properties:
A-A-59588 Class 2A & 2B Grade 60 • ZZ-R-765 Class 2A & 2B Grade 60 • 

SAE-AMS-3303
Durometer / Hardness   Shore A 60+/-5

Tensile Strength   650 PSI

Elongation   100% 2B - 159%-2A

Operating Temperature   -80 Deg. F. to +425Deg. F.

Finish   Smooth Both Sides

Color   Red/Orange

Powder / Talc Free
Typical Physical Properties are provided for your evaluation.  These typical properties are not designed to set specification requirements.  Rubber Sheet Warehouse believes that it's up to the end user to determine if a specific material is suitable for an application.